Hours of Operation: (weather permitting)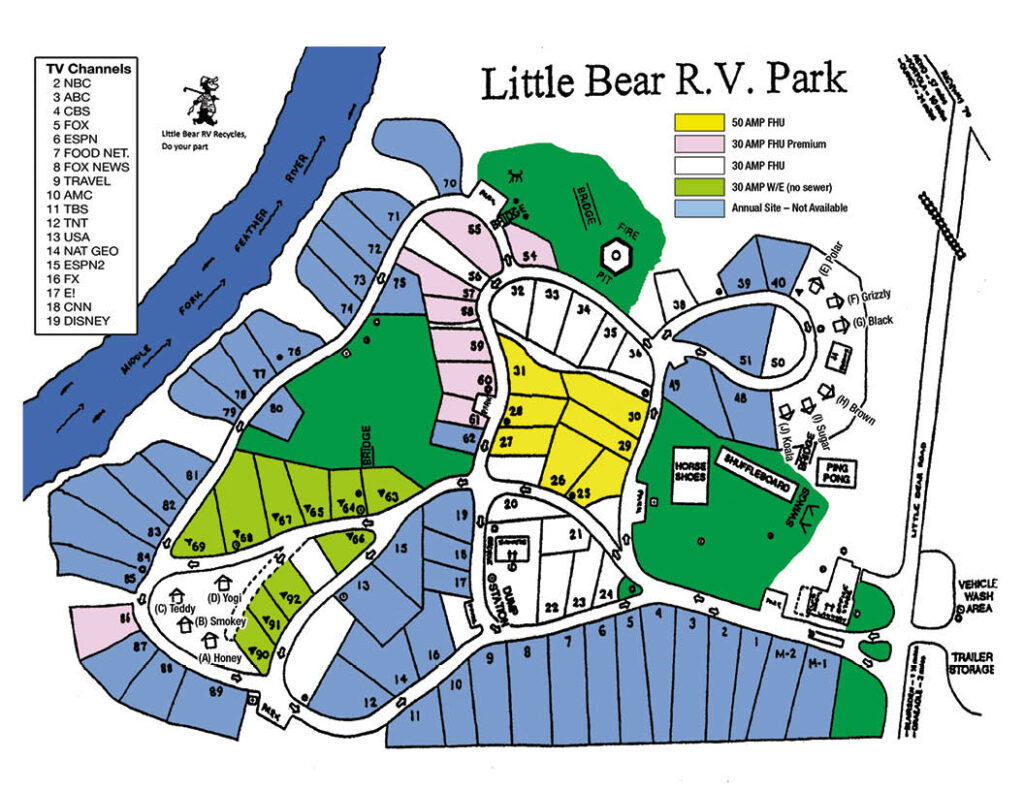 April 15th through October 28th … open every day 9:00 am to 7:00 pm
Extended Office Hours: Memorial Day Weekend through Labor Day Weekend – Friday & Saturday 8:00 am to 8:00 pm
80 Full hook up sites, 10 Water and electric sites, 10 Camping cabins with two sets of showers and restrooms, satellite TV and WIFI. RV dump for registered guests only.
ALL NO SHOWS WILL BE CHARGED IN FULL.
Activities in the Park: We have a store, horseshoe pits, ping pong, shuffleboard, swings, big screen TV and a club room.
Check-in/Out:  Check-in time is 1:00 pm until the office closes (see office hours above).  Check-out time is 12:00 noon.  Absolutely NO CHECK-INS after office closes.  Should you arrive after we close, you may stay in the storage area across the street.
Occupancy:  Maximum campsite occupancy is 4 adults or a family of 5.  All rates based on double occupancy.
Visitors: All visitors are required to obtain a guest pass from the office.  Any overnight visitors must pay the fee in advance of their stay.
Parking:  Sites accommodate 1 camping vehicle and 1 passenger vehicle per site.  Please do not park extra or visitor vehicles in empty sites.  There are several designated guest parking areas.
Children: We are a family friendly park and enjoy children having fun under the watchful eye of a caring parent.  Please always supervise children, especially in the shower and bathrooms. Per California law, children under 18 are required to wear helmets when riding bikes or push scooters.  No skateboarding is allowed in the park.
Quiet Hours: 10:00 pm to 8:00 am
Pets: We welcome well-mannered pets and ask that you observe the following:
NO PETS ON GRASSY LAWNS
Dogs are kept on a leash or confined to your campsite except in the doggie walk area
Dogs must be well behaved and never left unattended at the campsite
Always clean up after your pet immediately
Animals are not allowed in any buildings
Limit 3 pets per site
NO PETS allowed in cabin rentals nor can they stay in your vehicle or a kennel
Not Allowed:  For the safety and consideration of all guests the following are not allowed in the park:
Rollerblading, inline skating and skateboarding
Washing RVs or vehicles
Generators
Clotheslines
Tents or sleeping outdoors
Please be courteous to others. Do not drive, ride bicycles, or walk through occupied sites.
Removing picnic tables from empty sites
Attaching anything to any tree
No riding on lawns
Cargo & utility trailers
Electric Mono boards
Boat and ATV/UTV trailers are welcome but must be stored in our storage area.  The rate is $1.75 per day.
Campfires: Campfires permitted unless posted otherwise
Must never be higher than 2 feet
Children under 18 are not permitted to start campfires
Must be personally attended by someone 18 years or older
Must extinguish completely with water before retiring or by 11:00 PM
Cabins:  In addition to the rules above, please no smoking, cooking or ice chests in the cabins.  As a reminder, NO PETS allowed in cabin rentals nor can they stay in your vehicle or a kennel.  Anyone 17 or younger must be affiliated with an adult staying at the park.
Satellite Dish:  Must be mounted on coach
Air Conditioner: When using the air conditioner, please switch refrigerator and hot water heater to propane
Cancellation Policy: 
Cabin deposits are non-refundable
RV site refunds require a 7-day advance notice less a $20 cancellation fee.  Deposits on cancellations inside of 7 days and no shows are nonrefundable
All transactions are final, early departures are not refunded.
BBQ's are welcome.  Propane is preferred; however, briquettes are allowed with special care.  NEVER throw burning or smoldering briquettes in or around your campsite.  We have specified areas (burn pile) for your briquettes and are happy to assist you.  Please make sure they are completely extinguished prior to disposal.
Dumpsters:  Dumpsters are located by the lower restrooms and are for household garbage only. Because of bear activity dumpsters are locked at 7:00 PM.  Please DO NOT leave garbage on top of bins or outside your rig as this will invite bears.
Recycling:  We recycle aluminum, glass and plastic.  Bins are located by the lower restrooms.  Cardboard should be disposed of in the dumpster as it is not recycled.
Firearms:  Firearms, fireworks, or explosives are not permitted in the park.
We reserve the right to evict any person from the campground for failure to abide by any park rule or for creating a disturbance or nuisance.  All fees will be forfeited in the event of eviction.  All transactions are final.